Pavilion Dining Hall
The Pavilion is our main dining hall and indoor recreation area. With a fully staffed kitchen and room to seat up to 150 guests, Pavilion is perfect to host just about any function, from a youth camp breakfast, to an elegant wedding reception.
Pavilion includes a ping-pong table, foosball table, and optional karaoke machine. It's also equipped with a TV and sound system for movies and video games. We have projectors and presentation screens available for presentations and movies. Perfect for everything from wedding slideshows to pyjama parties, complete with movies and popcorn!
A large field stone fire place separates the upper and lower levels.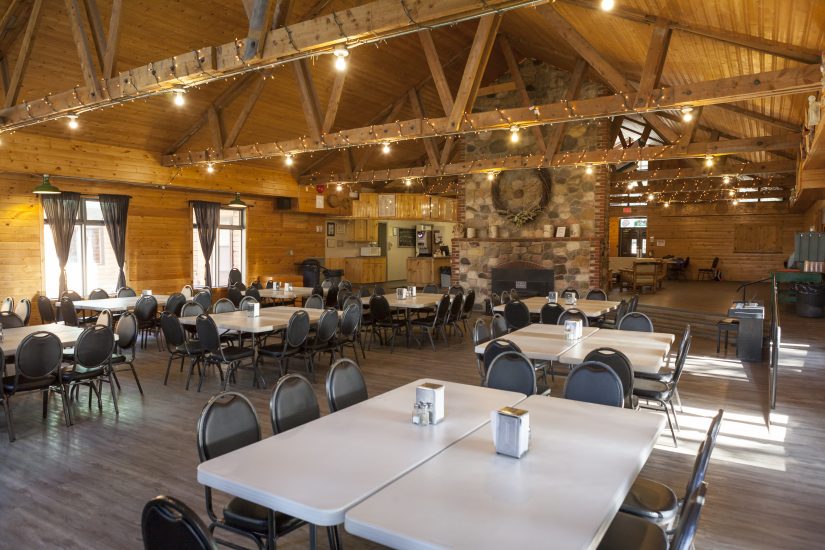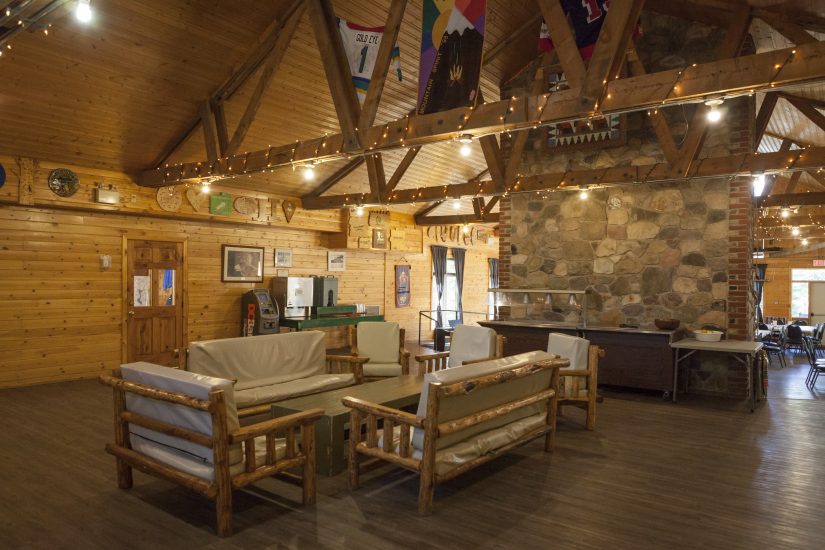 Jack Muza Dining Hall
Jack Muza Dining Hall is our executive dining hall and gathering area. Seating approximately 80 guests, it's smaller and more intimate than Pavilion Dining Hall.
The Jack Muza dining hall also contains a piano, a fieldstone fireplace, a TV and DVD player, and shuffleboard.
We will let you know which dining hall your group is assigned to upon booking. If you have a preference, please let us know in advance so we can do our best to accommodate you.
Amphitheater
Our outdoor amphitheater is used for everything from skits and performances to wedding ceremonies. It has power and lights to accommodate presentations and sound systems, but still has all the rustic charm that comes with its fire pit and wooden benches. The amphitheater can be adapted to suit both formal and informal gatherings. Please book in advance so we can be sure it's available during your stay.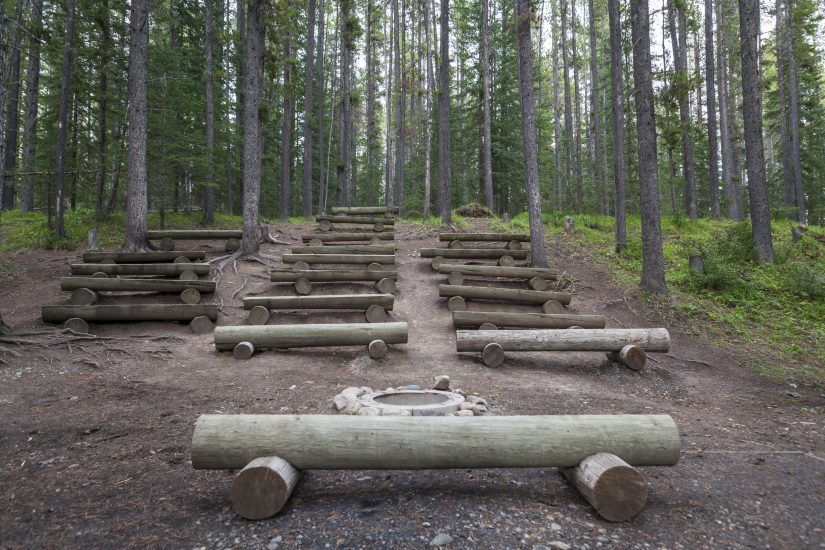 Fire Pits
We have three fire pits on site for hosting large and small gathering. Book one in advance for your corporate retreat, youth camp, or family gathering.  Any cooking at the fire pits must be approved.
Canteen/Front Desk
Whether you're looking for snacks or a hoodie to take the place of the one you forgot at home, the Canteen has what you're looking for. The Canteen stocks small snacks and treats, bottled drinks, some toiletries, and gift items.


Laundry Room
Our laundry facilities are located in Howden House, but are open to everyone (it should be noted that the laundry facilities are separate from the accommodations, so guests of Howden House won't be disturbed). We have one washing machine and one dryer, both coin operated. Laundry hours are from 8am to 10pm. Laundry soap and dryer sheets may be purchased at the Canteen.